April 13 and 14, 2009
Now that I've had time for it to sink in, I will say the AAF visit was truly an eye opening chance and one of my memorable moments. These experiences teach us so much and I would wish them on anyone.
We can read about issues such as this one through newsletters and media but visiting the centre gave me the real thing, something beyond price.
John and I came back to our hotel with heavy hearts as we fully realized the seriousness of the problem. At the same time, we felt energized by hope and the knowledge that we can do something good for the world.
 On the first day, we were picked up from the airport and went straight to the centre, and there Jill was waiting for us with her trade mark- a big sunny smile on her face.
 The day was hot and sunny, but we both wearing thick winter sweater as Jill had told us to do so previously.
We had abnormally warm anther for our arrival (always a good omen). The driver felt pity on us and threw two t-shirts with AAF service centre logo on it, and we quickly changed into them. Later, Jill found out where we got the t-shirts and she laughed and laughed as it is only given to those who work there- we felt honored to wear them.
 Jill gave us a 3 hour private tour and we talked about their operational costs…
The sanctuary consists of 25 acres of land and is comprised of 9 camps. Each camp consists of different levels of bears depending on their health status and abilities.
 The most heartbreaking unit was the quarantine area, where there were 12 bears held in separate cages, these being the last batch of bears to have arrived in February of this year. According to Jill, their condition isn't too bad. Jill also said the bears can spend up to a year in quarantine dependent upon their condition, and that the cage was not as comfortable as the den but bigger than the farm ones.
 The sanctuary staff consists of 156 people, including 12 expats. Unfortunately, all are relatively under paid as the budget is tight and the remaining staff consists of local enthusiasts. Additionally, 5 volunteer expats work for 3- month periods and are then hired on if they prove their capability.
This place has operating costs of 100,000 USD plus per month,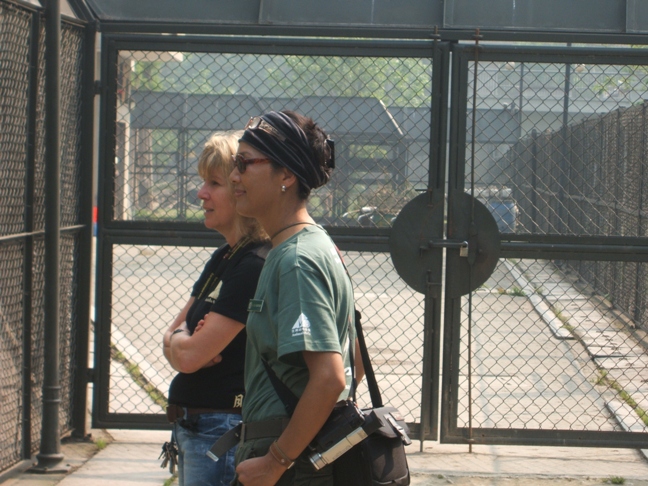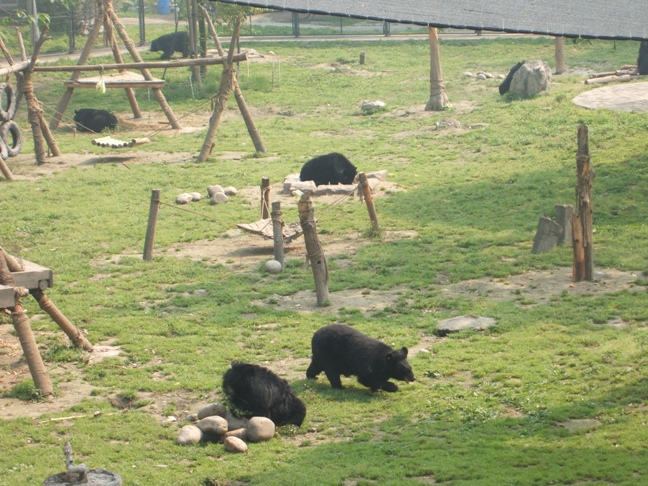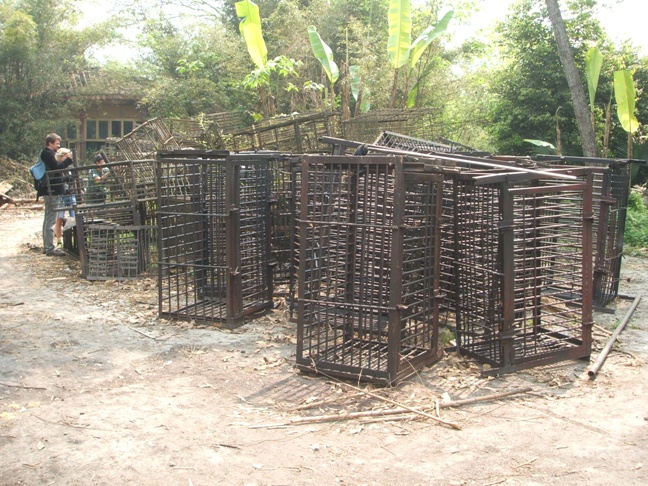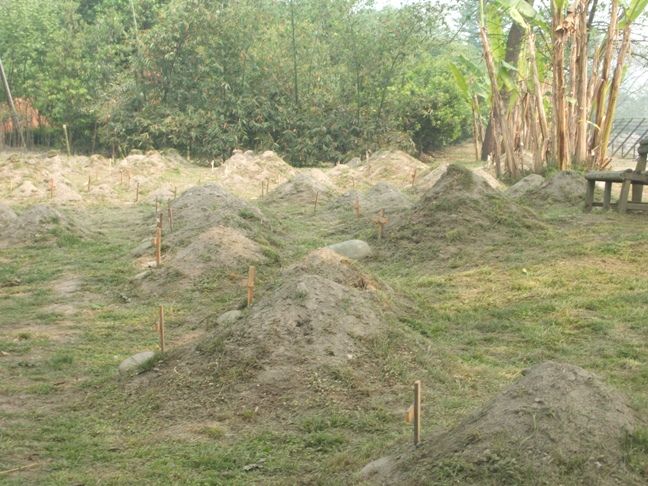 hard to believe! These are merely the costs of running the centre!
After the first day's tour, we brought our tired bodies back to our hotel, thinking that a sanctuary project isn't something one person can do alone. It has to be work of the Korean government as they are the ones with the necessary budget.  
 And the second day of our visit, we were joined by a German newspaper reporter- a nice young man called Till who came to the centre with the same purpose as ourselves; to learn the truth about the bears and to spread word to the rest of the world.
Jill then gave us another private tour- basically same route we took on the previous day, though I had been busy filming so it was a good opportunity for me to really pay close attention to the scenery and people around me.
This second tour took all day and when we finally sat down with Jill's directors- Christie, Heather and Toby, we exchanged our ongoing support to one another and promised to cooperate to end this cruel industry.
The most shocking thing I learned is that Korea is the number one buyer in the Chinese and Vietnamese market. If we don't start the campaign within Korea now, the bear farming business in China and Vietnam will never phase out. Unfortunately, that is the painful truth…
The horror of seeing the cages with my own eyes was just too much.
The size of them is so small that a human could not lie comfortably inside, not even for one hour.
But these bears lay there for 20 years!
Some of the cages that are already tiny, even have a shaped metal bar inside, which presses down the body to ease the process of milking- after seeing this, I found tears rolling down my cheeks.
Needless to say, our priority has changed and our passion increased.
We need to get the communication going with the Government and we need results promptly. We need to stop the breeding entirely.
We emphasize the dangers of buying unregulated bear bile products and we must continue to do so. We saw one particularly disturbing liver in a jar, which weighed 7Kg, riddled with cancerous tumors.
And then finally the sanctuary must come!
 I remember only a few names of these bears- Andrew, Jasper, Ceasar, Rosie, Rupert, Bottom, Benji, Franzi, Black magic and a dog called Tremor who has been  saved from the last year earth quake..
However, we flew back home with loving memories of the sanctuary and people who is tirelessly working around the clock in the centre.
I have taken the time to film and document a journey that I might share it with you, my friends and supporters.
I wish that you joined me in educating the world about this brutal trade.
 With heart full thanks to Jill and her co-workers,
 G. Moon