2009 11월 6일부터 8일까지 3일간의   Advancing Bear Care Conference는 정말 꽉 찬 일정이었다.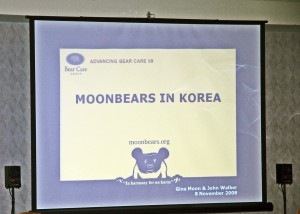 전 세계 각 분야에서 모여든 학술인, 기업인, 전문 수의사, 동물협회, 동물원관리과, 야생동물 보호소 기타등등, 총 87명의 Delegates 이 참석하여 세계의 다양한 Bear Species에 대한 서로의 정보교환, 이를 보호 육성하자는 열기로 가득한 진실로 보석같은 자리였다.
moonbears.org 는 20여분 동안 한국의 반달곰 사육실태와 상기 정책에 대해 보고하고 그의 문제점과 해결안 등을 제시하였다.
그에 대한 각계의 반응은 정말로 놀라웠다.  하물며 자국인인 한국인들도 모르고 있는 이 어려운 사실을 어찌 벽안의 서양인들이 알 수 있을까. 그들의 따뜻한 성원과 격려에 감사한다.
한국내, 외의 신속한 곰 사육 정책 폐지와 곰쓸개를 비롯한 모든 Bear Products의 매매 금지를 한국 정부에 요청한다.
곰 사육농가에 보상해 주고, 한국 정부가 80년초 농가수입증진의 일환으로 시작한 이 어처구니없는 정책을 즉각 폐지하여 땅바닥에 떨어진 우리의 위상을 되찾고, 또한 합법, 위생적으로 처리되지 않은 곰쓸개의 위험성 등에 대한 대중교육, 홍보를 정부에 요청한다.
중국과 베트남 통털어서 사육곰 개체수는  11000마리-  한국에 1600마리.
자연 야생에 남은 야생 반달곰의 수효는 중국에 10,000여마리-  한국에 16마리.
이 숫자를 볼때, 문제의 심각성을 절실히 느낀다.
한국은 IT를 포함한 technology에 있어 세계를 앞장서는 선진국이다.  동시에 중국과 베트남을 합친 크기에 비교할때 너무나도 작은 나라이다.
이를 더 이상 관용해서는 않된다는 내 자신의 소신이요, 각 계의 의견이다. 
*** 여러분, 사육곰 폐지 캠페인에 많이 서명해 주시기를 다시 부탁 합니다.  http://www.gopetition.com/petitions/save-bears-in-korea.html
Advancing Bear Care 09 by Bear Care Group- San Francisco
It was truly an eye opening and breath taking experience for us- moonbears.org to learn there are many wonderful, caring people out there sharing their life time experience with others.

 
The Bear Care Conference was held 6th – 8th November 2009 in

San Francisco USA with 87 participants from all over the world.
We moonbears.org gave a presentation alerting the participants about sad reality of bear farming industries in South Korea, about  the bear 'Miracle'- an escaped female bear who adapted and survived the wild since 2007  who's stake is at large when she get captured. We had suggested and shown it's directions to end this brutal trade which is no longer acceptable in the modern society.
We have truly enjoyed the moment and came home with a renewed sense of excitement to continue on. 
 

When it comes to the size and its potential, Korea has a big problem.

South Korea has 1600 farmed bears in a small country with small population and there are only 16 left in the wild.

China 7000 and Vietnam 4000 farmed bears- over 10000 left in the wild of China region.
This figure tells us it is very wrong.
Korea is an advanced nation in terms of its IT technology and so on. 

It is important to raise this now among Koreans and to the rest of the world.
The conference started with the President of The Bear Care Group, Else Poulsen saying- 
"

Dear Bear Care Delegates,
In a year of global economic challenge, you have made Advancing Bear care 2009- a tremendous success right at the starting gate.
The Bear Care Group would like to thank each of you for making a commitment to bear welfare and conversation by your participation in Advancing Bear Care 2009.
Today, as never before, our greatest resources is communication and networking.
This weekend you will enjoy stimulating presentations, interactive problem- solving sessions, two fabulous venues, good food, and the company of 87 international bear enthusiasts just like you.
Thanks again- now let's do it!" 
Please stay for moonbears.org presentation video which will be coming soon. .