It is fantastic to see all the time and effort our supporters put in to help promote our campaign. From poetry to YouTube clips, the breadth and depth of talent on display is amazing.
We would like to highlight this great work and promote the talents of the creators. If you would like your work highlighted on and/or linked to from this page please contact our webmaster for more details or to recommend some work. If you prefer you can drop by our mini forum for a chat.

We have included a few categories below but we understand that creativity comes in all shapes and sizes so don't feel constrained.
These are a couple of professionally produced YouTube video's, there are also some pretty good mash ups out there which we would love to see here (careful these are pretty graphic).


A friend sent us this script which utilizes the Flickr API to present images that are tagged as 'moonbears' and 'cute'.

You click on the thumbnail to be taken to the associated Flickr page.

Now thats creative!
A very big thank you to our friends in the 'SAVE THE MOON BEARS' group on Habbo. Great work!

http://www.habbo.co.nz/groups/moonbears

Tegan wrote a great article about her experience with moon bears on her blog at http://teganlee.wordpress.com/2006/05/15/moon-bears-2/

Phil from Australia has created a moonbears.org MySpace layout. You can view it here http://www.myspace.com/moon_bears.

If you want to use the layout you can download the zipped html file here.
Mitz from Australia submitted this beautiful Native American prayer.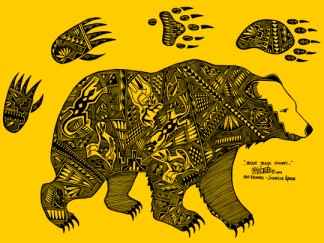 Prayer for My Brother, The Bear
by Chief Dan George

O Great Spirit who listens to all
I speak for my brother the bear.

Make the moon shine softly during the nights of his childhood
So that the warmth of his mother will
always be in his memory.

Make the berries grow in abundance
and sweetness
So that the vigor of life will strengthen his heart

And the years of old age shall never
be a burden to his body.

Let the wildflowers refresh his temperament
So that his manner will always be carefree.

Give his legs swiftness and strength
So they will always carry him to freedom.

Sharpen the senses of his ears and nose
So they will always keep harm from him.

Let only those men share his path
who in their hearts
Know his beauty and respect his
strength so that he will

Always be at home in the wilderness.
Make men praise life so that no one
needs to feel the shame

That lives in a heart that has wronged.
Then my wild brother, the bear, will
always have a wilderness,

As long as the sun travels the sky.
Oh, Great Spirit, this I ask of you
for my brother, the bear.
Jack, a long time friend of moonbears.org submitted these two haunting poems.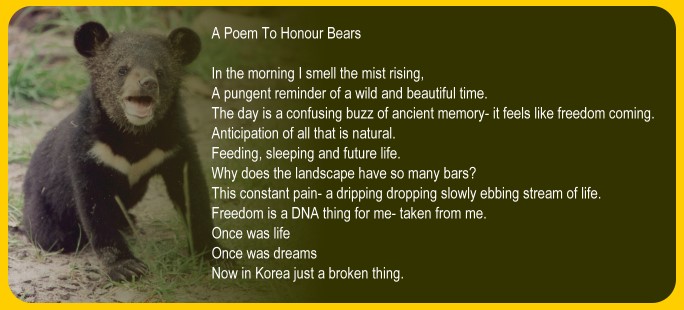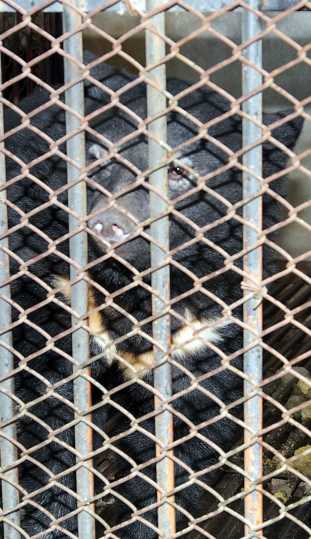 A silent suffering trance
Is this what life is?
A bed of wet cement
And a blanket of pain

Where is the whispering wind
The raw earth
The canopy of forest
That long and peaceful winter sleep?

Where is the moon
Where are the stars?
My own breast is only my moon
And my scars don't heal

It seems that life brings pain
A numbing and gnawing agony
A constant weight that bends the heart and soul
There are only scars- no stars

From this living death
I silently scream for freedom
I was born free into a world of chains
And jailed by beasts imprisoned by their fears

Death is looking good
In this agony of life
Where men born of my mother
Use my flesh to feed their dreams

Come to me life
For life will follow death
A rich forest full of humming life
Awaits my time of passing