Signatures to date.
If you have any comments, news or articles relating to Moon Bears that you would like to share on this page please do not hesitate to contact us (please include your signature number).
December 2008
Kelly's Presentation for the KMPL
Illegal Bear Farms in Vietnam for Koreans
Our partners from Animal Asia have reported illegal bear farms in Vietnam.
Below is an excerpt from their email: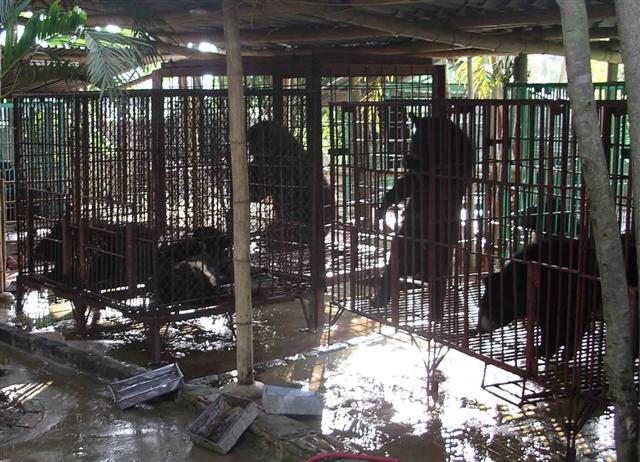 Last year, our undercover work revealed 6 bear farms with a total of 280 farmed bears in Ha Long Bay, Quang Ninh Province, bit more than 3hrs drive from Hanoi. These bear farms are extracting bile and selling them to South Korean tourists. The 6 bear farms are managed or in partnership with Koreans. All the signs/information boards on the bear farms are in Koreans. They only allow Korean tourists onto bear farms and not western or local visitors. These bear farms are well managed and cater for large tour groups which arrive in big coach/bus. From our undercover work, the bear farms are selling bear bile at 15 USD/ml. Clearly, these bear farms are violating Vietnam's laws and the CITES convention, Vietnam is a signatory since 1994, as I'm sure Korean tourists are taking bear bile out of Vietnam back to Korea.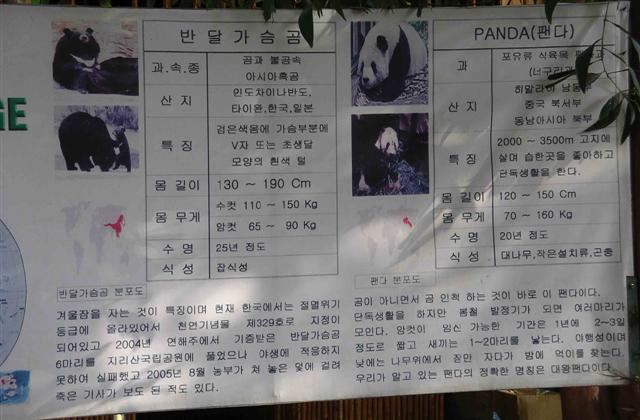 We're looking at way to inform the Korean tourists that they are breaking Vietnamese laws by buying bile and taking it out of the country. It's a criminal offence in Vietnam to trade bear bile and the offender could be fine up to 3000USD and 6 months to 3 years in prison. To this task, we're working with a local NGO trying to lobby the South Korean Embassy, Asian airlines, and tour group operators. We thought this will be more effective if we have interventions from both inside and outside Korea so that Korean tourists are well aware and informed about the law and bear bile trade issues before they leaveKorea.
It's unfortunate this kind of stuff is happening. We need to let the public know and figure out a way in order to stop this. Please sign the petition on our website. We need 20,000 signatures to petition the Korean government.
June 2008
Animals Asia Foundation endorses moonbears.org
We are greatly encouraged by Jill Robinson's endorsement of our work in Korea as we continue to raise awareness of the plight of the moon bears and work towards their rescue and placement in purpose built sancturies.

Click here to read the full endorsement | Click here to view the original document
Support For China Earthquake Disaster
moonbears.org donates 50,000 HKD to AAF for China earth quake relief fund.
Read the article here
.
April 2008
News from Animals Asia Foundation, China Bear Rescue update.
On the 31st March 2008 another 28 moon bears arrived at Jill Robinson's ChengDu bear sanctuary.

The ongoing story of this rescue is both sad and inspiring:

One emaciated bear brought to the AAFs rescue centre in ChengDu was dead on arrival, his body still warm. One died of prior injuries and nine more have been euthanised. Each was riddled with chronic, liver cancer, as well as a litany of other agonising ailments.

All were in impossibly small cages, all skeletal, wounded in various ways, and terrified of what would happen in this next stage of their lives. Some are blind, some have shattered teeth and grotesquely ulcerated gums, some have shocking necrotic wounds - their flesh literally rotting down to the bone. Most arrived with open wounds in their abdomens from the free-drip method of bile extraction, with some leaking bile, blood and pus.

The number of bears in such an atrocious condition was unprecedented.

Source: www.animalsasia.org

You can follow the the story on Jill's blog
March 2008
Brutality and Horror, the shame of South Korea 2008. (Includes graphic imagery)
It seems the South Korean government has abandoned the mythological mother of all Koreans to a ghastly holocaust.

Again it is our very sad duty to present a series of hidden camera images demonstrating the sickening reality of the South Korean goverments failure to act in shutting down the bear farming industry.



Dirty rusting old cages.

Many of the moon bears are locked into small cages leaving them no space to move around.

The bears are starving, the farmers cannot afford to feed them

Stressed bears attack and hurt each other but no vet visits to provide help.

The bears are left alone to die.

( )

( )

Open wounds from fights.

Blood from open wounds.

Only the strongest can survive the brutal carnage! The weak face a slow lingering death.

The dead are secretly buried with no reporting to authorities.

The new born cubs are so vunerable.

The traumatised mothers can no longer care for their babies.

The cubs die from hunger or are killed by other adults.

( )

( )

( )

This moon bear repeats the same motion over and over against the wall.

This poor moon bear spends all day everyday trying to escape from the cage.

This moon bear spends all day just shaking his head.

In this final ghastly image the noble moon bear,the mythological mother of Korea sits in her tiny cage eating her own discharge.
Please
take whatever action you can to let South Korea know that the carnage must stop.
YOU can help stop this!
Bear bile is obsolete.
In a letter to Hong Kong's Chinese-language newspaper, Wen Wei Po, Dr.Eric Busch of bearbilefacts.org in the United States presents a compelling argument that the use of bear bile in traditional chinese medicines is obsolete.

Dr.Busch clearly lays out the facts regarding UDCA (ursodeoxycholic acid) the pharmaceutically active ingredient in bear bile and describes why the synthetic version of UDCA is medicinally superior.

Interestingly, Dr.Busch also refers to chi (life force) and makes the point that this force, in a bear subjected to the horrendous conditions on a bear farm, would be "weak indeed".

You can read the full text of the letter at http://www.bearbilefacts.org/73901.html
February 2008
Lee Myung-bak inaugurated as the 17th-term President of the Republic of Korea.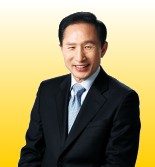 President Lee Myung-bak, who was inaugurated as the 17th-term President of the Republic of Korea on February 25, 2008 has a reputation as a forward thinker who is seeking to further engage Korea with the global community. President Lee Myung-bak was raised in a poor farming family and has worked his way up to be President of the world's 13th largest economy.

The President's clear empathy for the country's farmers together with his desire to promote South Korea as a responsible global citizen leave him uniquely placed to effect real change.

moonbears.org urges President Lee Myung-bak to grasp the nettle and take the appropriate steps to to provide satisfactory outcomes for all stakeholders in the bear farming industry not least of which are the bears themselves.

You can find out more about Lee Myung-bak at http://english.president.go.kr/biography01.php
International Campaign Unchained (ICU) launched.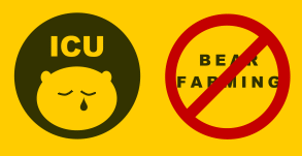 We are now actively planning for a bear sanctuary in Korea.

It is a huge task and we need your help. If you know anybody who can offer any assistance please let them know.

Please also take a moment to share your thoughts and ideas on our forum. We look forward to seeing you there.

Click here to see how you can help

January 2008
Devastating images from Korea.(Includes graphic imagery)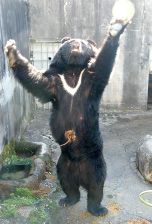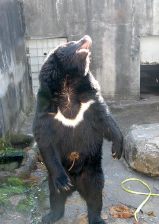 These horrific images from a Korean bear farm have recently been brought to our attention.

The images were taken in 2004. You can view a Korean language video of the story at:

http://news.naver.com/main/read.nhn?mode=LSD&mid=sec&sid1=102&oid=055&aid=0000032254.

To view the video click on the button that looks like this

.

This must stop now. Please Sign our petition and tell your friends.
Farewell Jang Goon, another bear dead in Korea.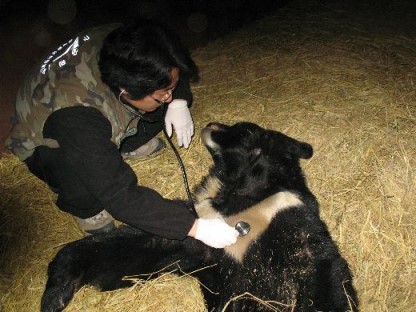 Jang Goon, a 7 year old moon bear died on January 12 2008 at the Moon Bear Restoration Centre.

Jang Goon was one of the first 'test' bears released into the wild after being born in captivity on a Korean bear farm. In 2001 he was 'retrained' and released into Jirisan National Park to study the abilty of farmed bears to adapt to wild living. He was collected back from the wild in 2004 due to concerns about him mating with a different breed of bear.

The Moon Bear Restoration Project team describe Jang Goon as having died from natural causes but noted that he had been unable to hibernate properly. Scientists are concerned that global warming has affected the amount of snow falling on Jirisan. The reduced snow fall makes it difficult for the bears to go to sleep. Only five of the ten moon bears left on Jirisan are confirmed to be in hibernation.


Economic losses could end a cruel animal trade in Korea.
Please note that according to moonbears.org research the monetary values referred to in the WSPA article below are incorrect. The actual daily cost to feed these gentle giants is USD 0.50 per day. This figure is confirmed by the farmers themselves in our video Farmed Bears turned White Elephant
Economic losses could end a cruel animal trade in Korea.

Not only is the practice of farming bears for their bile cruel and unnecessary as synthetic alternatives exist, but new statistics released today reveal that nine out of ten bear farmers no longer see their business as being profitable long term.

The findings in a survey carried out by the World Society for the Protection of Animals (WSPA) and Green Korea United (GKU), back both groups' calls for an end to the practice still carried out in South Korea, Vietnam and China.

Chris Gee , WSPA "End Bear Farming" manager, said: "In Korea it costs an average of USD 783.00 a year or USD 7,830.00 to keep a bear captive in its lifetime. When sold for their bile these bears cost an average of USD 5,603.00 - its simple mathematics that with losses on average of USD 2,000.00 there can be no future for this cruel and unnecessary practice."

He added: "In South Korea bears are kept in small farms and restricted to small cages until they are slaughtered at ten years old for their bile and other bear parts. Given this and the proven economic losses, alternative ethical and economic forms of livelihood should be sought by all those involved with the support and advice of their governments."

Nearly three quarters of respondents surveyed think that there will be further financial losses rather than improvement to their bear farming income in the future. As a result of this bleak outlook, more than 88% have already started supplementing their income with alternative business practices.

In addition, 80% of respondents said that they would agree to abolish bear farming completely if the government agreed to compensate for their business losses.

Chris said: "We urge the Korean Government to follow the lead of Vietnam which two years ago committed to working with WSPA to phase out bear farming."

Notes

61 Korean Bear farmers took part in the research, there are 99 bear farms in South Korea.

When asked what the difficulties in bear farming business are, they responded:
37.7 per cent of respondents chose 'government's inconsistent policy'
24.6 per cent of bear farmers who are concerned about the feed cost burden as the legal slaughter age of bear is 10 years old
19.7 per cent of them say because of the wildlife protection movement it is difficult to reach the consumer market.
Source: WSPA News Release
Archives